Reliance Jio is a Mumbai-based provider of 4G services, mobile telephony, broadband services, and other digital services in India. Jio recently started offering a 4G-only mobile service across India which offers voice, video calls, data and many other digital services. Reliance Jio is said to take on the Indian telecommunications market by storm because it offers data on very low prices and offers free voice calls across India.
Let us break this service down and see if Reliance Jio is worth switching to.
Service Plans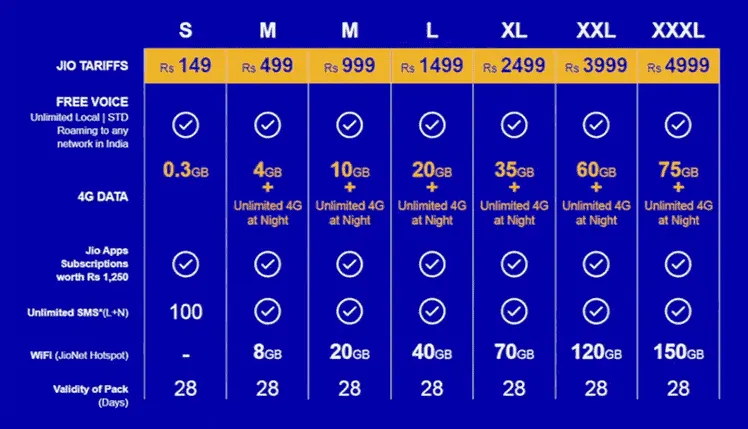 Judging by the plans Jio offers, it compares very well with its competition. Airtel offers 1GB of data at around Rs. 250/- per month. But, Jio offers 4GB at Rs. 499/- by also providing unlimited voice calls all over India with unlimited SMSs in the package.
Jio's pricing is unmatched in the industry.
Service Quality
Since the beta launch of Jio on 27th December, 2015, the service has had amazing reviews. People claimed the speeds to be blazing and reliable. But, since the 5th September launch of the service commercially, people have claimed to have faced a depressing amount of call drops and slower speeds compared to before.
This article explains everything that's wrong with Jio since the commercial launch. There are two major issues that the customers are facing.
Slow Speeds: The internet connectivity seems to have fallen to very low speeds, and the connection is sometimes unreliable.

Call Drops: There seems to be a huge number of call drops faced by the customers, especially with the ones made to other networks. There may be a fix to this soon, read here.
As the service is still in its infancy, it's wrong to judge the quality just by what we hear or face in the initial phase. We can expect an interesting developemnt in the coming days as other networks are scrambling over ways to not lose their customers to Jio. Because of this threat and to accomodate the huge traffic of calls coming into these networks, the operators want to charge Reliance Jio mobile termination charges higher than 14 paise/minute which is the standard set by the regulator. In addition to this, Reliance Jio Infocomm is meeting up with other network operators to request for additional Points of Interconnection (PoIs) to reduce the amount of dropped calls faced by Jio customers. Only time will tell if these two developments will lead to Jio reassessing their unlimited free calls for the length of their customers' subscriptions.
Transparency in Charges
As calls on Jio are VoLTE, all voice information is transferred through the network through packets aka data channel. Traditional calls made on 2G or 3G networks use a separate channel and protocol for voice and the charges were only based on the duration of the call. But, since Reliance Jio is purely a 4G network, the voice calls are transferred like any other data on the network — let's say a Facetime or WhatsApp call, for that matter.
Due to this, people may wonder if the unlimited voice calls offered on Jio could be a marketing ploy, where in fact, their data will be counted againt when these calls are made. But, as of this article's writing, Jio has confirmed that a user's data quota will not be used for making voice calls on Jio. Read here for further information.
But, we do not know if this will be the case a few months down the service's life in the market. Because of the pressure put by it's competition, Jio may give in and use the data quota for voice calls. This is purely a speculation. But, if this happens, cost of a call will not be as transparent as calls are on 2G or 3G networks. This is because, the bitrate of a call may vary on various factors and due to this, two calls of the same duration could have different data consumptions. Jio may choose to normalise this, but, only time will tell if any of this will happen.
Battery Consumption on 4G
Well, comparing between 2G and 4G, the radio drains more battery when on 4G than 2G. When I say more, I'm talking about the time we use browsing on the web. If you take the ratios between the data transferred and the energy consumed for that transfer, 4G may prove to be more efficient. But, the human factor is important when we perceive real-life battery consumption as we normally tend to use more data when on a network with a higher bandwidth. But, when you consider idle states, my research points to better battery performance in 2G than 4G.
When you start comparing 3G and 4G, the contrasts are quite low with respect to battery life. 3G and 4G consume similar energy over time. If you've been a long term 3G user, shifting to Reliance Jio would not bring about a dramatic increase or decrease in battery life. You should know that practically, a very large number of factors play a role in impacting battery life.
Since Jio is a purely 4G service, there wouldn't be any switching between the radios and frequencies. This will work in its advantage.
Conclusion
With all this in mind, I really appreciate the competitive pricing offered by Reliance Jio. And, VoLTE is the future and having a network that starts off from that as the base will be of great value for the future.
Personally, though, I would hold off on switching to Jio just yet. I would wait for the call quality to improve and the call drops to reduce. I don't mind paying my higher mobile bills from Airtel until Jio improves on its service and all the issues with the competition settles down.
Let me know what you think about Reliance Jio in the comments.
Edit — I changed my take on battery consumption on 4G. Ramsundar Shandilya helped me with gaining a more accurate view on energy comsumption.
Disclaimer
I have no affiliation to Reliance Jio or any of its competition except that I use Airtel as my mobile operator. I have been objective while stating facts and subjective only while giving my opinions. This article was written only to help those who are looking to switch to Reliance Jio by providing more perspective.
You can't ever have too many perspectives to consider before deciding something.